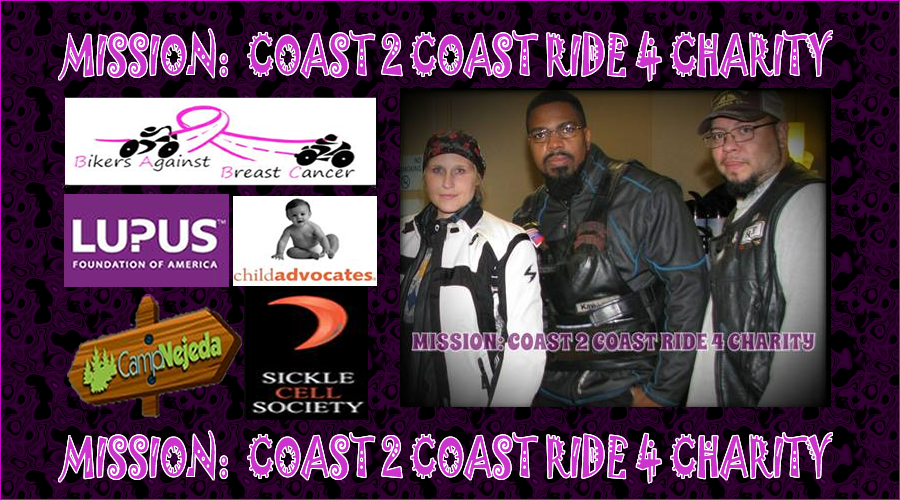 YOUR SUPPORT IS NEEDED.....PLEASE DONATE and JOIN The Ride If You Can
THE RIDE OF THE YEAR 2014!! Come follow us as we RIDE FOR CHARITY! All donations go to charity. FaceBook Page is the ONLY page accepting donations for OUR ride.

Description -

Come follow us as we

RIDE FOR CHARITY!
DISCLAIMER: All donations are to be directly collected via PayPal on this Facebook page through the 'DONATIONS" link or if in person then donations are only

allowed to be given to the 3 riders involved in the ride. NO ONE ELSE IS PERMITTED TO ACCEPT DONATIONS. If you hear of someone trying to collect on our

behalf, please contact us immediately. Thank you.
Starting March 6, 2014 - All Riders are welcome to join us either from this point as we take a ride from New York to Jacksonville Beach, FL or they are welcome to

meet us at the end of the IBA ride in San Diego, CA (addresses listed below) and ride back with us from San Diego, CA to the East Coast.

March 8, 2014 - The MISSION begins...O.D. of Triple XXX Riders, MC of Long Island, NY; Neftali Colon of Die Hard Ryders, RC of Brooklyn, NY and Mz. Kelz, Independent Rider

have accepted a challenge to see who can legally do this certifide ride the fastest: IBA 50CC Quest (http://www.ironbutt.com/ridecerts/getdocument.cfm?DocID=4)

Whoever makes it to San Diego first, is the "winner" and the charities that this person has selected will receive 100% of the donations.

O.D's Charities: BABC, Lupus, and Sickle Cell

Nef's Charities: In memory of John Charles Ryan - Camp Nejeda and BABC

Mz. Kelz Charities: Child Advocates and BABC

Start Receipt: 2517 South 3rd St. Jacksonville Beach, FL

End Receipt: 4794 Voltaire St. San Diego, CA

After all 3 riders have checked in to the destination in San Diego, we will spend a day resting and meeting up with our local MC Fam and All Riders Radio Hosts and listeners (www.allridersradio.com) that have chosen to ride back with us to the East Coast which we then plan to be home by March 16, 2014.

WE LIVE TO RIDE AND IN MARCH....WE RIDE FOR CHARITY!

http://www.campnejeda.org/site/PageServer?pagename=campnejeda_homepage

http://www.childadvocates.net/

http://www.sicklecellsociety.org/